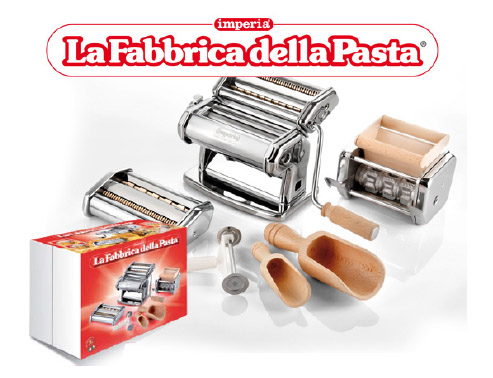 • Pasta Set includes:
• 1 x Imperia machine with 6 thickness settings
• 1 x Spaghetti Maker Attachment
• 1 x Clamp
• 1 x Cutters for four types of Pasta (spaghetti and noodles 1/10th to 1/4th of an inch wide)
• 1 x RavioliMaker a tool to make ravioli
• 2 x Wooden Rolling Pin
• 1 x Detachable Handle
• You can create 4 types of pasta and 6 thickness settings with this set!
• A perfect gift and an excellent start!
• Made in Italy
PRODUCT DESCRIPTION
The Imperia La Fabbrica della Pasta (The pasta factory) is precision engineered in Italy, sturdy and built to last. Pasta sheets, spaghetti, tagliatelle, fettuccine, lasagnette and ravioli... Make delicious home made pasta in minutes with Imperia La Fabbrica della Pasta! This Imperia pasta gift set has all the essential items for producing homemade pasta using your very own selected ingredients. The gift set includes Imperia machine with 6 thickness settings, easy to use and maintain with a detachable handle; clamp which allows you to securely fix the machine to work surfaces; detachable cutters for four types of pasta (spaghetti and noodles
1/10th to 1/4th of an inch wide), a RavioliMaker a tool to make ravioli, two wooden scoops.
Homemade ravioli allows you to be creative with your fillings, why not try a smoked haddock with a light sauce containing dill or perhaps make a mixed tray with different fillings.
This set allows you to produce a range of pasta types enabling you and your family to enjoy the wonderful taste of fresh, home-made pasta, in your own home.
PRODUCT DETAIL INFO
• Product Dimensions: 17" x 13" x 6.5"
• Shipping Dimensions: 19" x 15" x 9"
• Product Weight: 14 lbs
• Shipping Weight: 15 lbs
• Model: 501
• MFG: Imperia
• Made in Italy
• Lifetime Warranty
• UPC: 005782005016
• EAN: 8005782005016