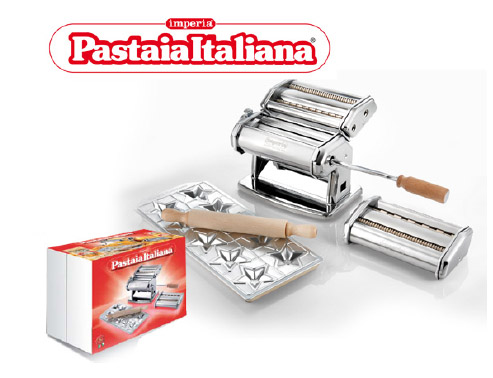 • Pasta Set includes:
• 1 x Imperia machine for making pasta sheets in 6 thicknesses
• 1 x cutters for spaghetti, tagliatelle, fettuccine, lasagnette
• 1 x handle and vice
• 1 x Raviolamp mould for stars
• 1 x natural wood rolling pin
• You can create 4 types of pasta and 6 thickness settings with this set!
• A perfect gift and an excellent start!
• Made in Italy
PRODUCT DESCRIPTION
The Imperia Pastaia Italiana (Italian Pasta maker) is precision engineered in Italy, sturdy and built to last. Pasta sheets, spaghetti, tagliatelle, fettuccine, lasagnette and star-shaped ravioli! With Imperia Pastaia Italiana, it takes just minutes to make creative Italian pasta!
The box contains: the Imperia machine for making pasta sheets in 6 thicknesses, the handle and vice, cutters for spaghetti, tagliatelle, fettuccine, lasagnette, the Raviolamp mould for stars and natural wood rolling pin.
Homemade ravioli allows you to be creative with your fillings, why not try a smoked haddock with a light sauce containing dill or perhaps make a mixed tray with different fillings. A small beechwood rolling pin is included which can be used with the ravioli tray for sealing and cutting into individual shapes.
This set allows you to produce a range of pasta types enabling you and your family to enjoy the wonderful taste of fresh, home-made pasta, in your own home.
PRODUCT DETAIL INFO
• Product Dimensions: 15" x 12" x6.5"
• Shipping Dimensions: 18" x 15" x 9"
• Product Weight: 13 lbs
• Shipping Weight: 14 lbs
• Model: 508
• MFG: Imperia
• Made in Italy
• Lifetime Warranty
• UPC: 005782005085
• EAN: 8005782005085